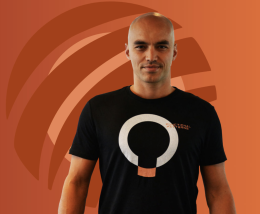 Alex Parenguan
In 2007 is Alex afgestuurd als fysiotherapeut aan de Hogeschool in Rotterdam. Na zijn opleidingen heeft hij veel ervaring opgedaan bij verschillende praktijken en (professionele) sportclubs.
Door de jaren heen heeft hij zichzelf gespecialiseerd in de complexe problemen van het menselijk lichaam en past hij verschillende behandelmethodes toe, onder andere: bindweefseltechnieken, triggerpoints, orthomoleculair, massage, shockwave therapie, revalidatie en myofascial release.
In 2010 is hij zijn praktijk gestart. Hier richt hij zich voornamelijk op cliënten met chronische pijnklachten die kunnen ontstaan door conflicten, stress of andere oorzaken. Met de behandelingen die hij bied, helpt hij de perfectionistische ondernemer, control-freak of gedreven en ambiteuze mensen van hun chronische pijnklachten af, door verschillende coaching-trajecten. hij heb een passie voor de complexiteit van het menselijk lichaam en vind het leven veel te waardevol om met pijn rond te blijven lopen.